Kennesaw State University Recognizes Incentive Solutions' Mattie Logan for Her Success
Incentive Solutions,an Atlanta-based company that provides incentive travel planning services, is pleased to announce that one of their employees, Mattie Logan is an adept and enthusiastic Associate Account Manager who was recently featured as The Course magazine's latest cover story.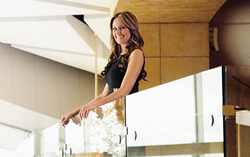 The Course is a publication of Kennesaw State University's (KSU) College of Continuing and Professional Education (CCPE). Their program's most successful graduates are featured in The Course as role models for industry achievement. Logan completed KSU's Meeting & Event Management program in May 2014, earning her professional Meeting & Event Management certificate. KSU's program, taught by award-winning professionals in the hospitality industry, equipped Logan to succeed at Incentive Solutions when she began coordinating group travel and meeting planning in September 2014.
Logan was previously involved in fashion merchandizing and baseball game entertainment before she decided she needed a change. "I have always had an interest in planning," Logan told The Course. She pursued Meeting & Event Management based on a history of coordinating family and friend functions. CCPE was impressed with Logan's ability to successfully change her career path and her resourcefulness in developing her skill set. "Meeting and Events is such a booming industry in Atlanta," said Davia Lassiter, Director of Marketing for CCPE, "and we found Mattie's testimonial of her success very compelling."
Through the CCPE program, Logan was trained in writing proposals, creating websites, developing budgets, performing site inspections and booking transfers. Logan says she uses these skills daily in her role as Associate Account Manager for Incentive Solutions.
Since joining Incentive Solutions, Logan has distinguished herself, having planned incentive travel trips to Germany, Costa Rica, Mexico, and the Dominican Republic. She is always prompt in meeting client needs and providing top-notch services like event staffing and registration, transportation and entertainment, along with free site selection and contract negotiation.
Having been recently voted, for the third year in a row, one of Atlanta's Best and Brightest Companies to Work For®, Incentive Solutions has proven itself to be an enriching and exciting place to work. Part of Incentive Solutions' company culture is hiring and training their workforce to be exceptional. By providing great company benefits, employee recognition and a positive environment, Incentive Solutions bolsters employee motivation and engagement. Incentive Solutions aims to provide all their employees the resources and encouragement so each has a compelling success story like Mattie Logan's.
About Incentive Solutions
Incentive Solutions, Inc. was founded in 1994 and is based in Atlanta, GA. Part of The ISI Group, consisting of Incentive Solutions, Loyaltyworks, and Travel Solutions, Incentive Solutions offers online rewards, travel incentives, and debit card reward programs. Since its creation, Incentive Solutions has been an innovator in the incentive industry by utilizing emerging online technologies that help companies increase sales, engage and motivate employees, encourage customer loyalty, create positive work environments, and enrich sales channel relationships.
Incentive Solutions
1-866-567-7432
2299 Perimeter Park Drive, Suite 150
Atlanta GA 30341
"Meeting and Events is such a booming industry in Atlanta, and we found Mattie's testimonial of her success very compelling." - Davia Lassiter, Director of Marketing for CCPE."